Keely Schultz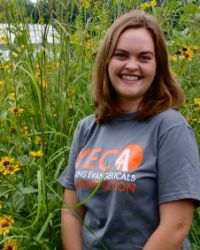 Keely Schultz
University of Northwestern- St. Paul
Keely Schultz is a junior at the University of Northwestern--Saint Paul in Minnesota. She is majoring in Environmental Biology with minors in Spanish and Bible. Growing up, she spent the majority of her time playing outside, where she fell in love with every part of nature, starting with the little leopard frogs she found in her window well. As she got older, nature became the primary way she connected with God.
Keely sees climate action as a way for her to serve God and others, as well as to combine her various passions for people, nature, science, and spirited discussions. She feels called to honor God through preserving his creation, and considers climate action an important part of our call as Christians to love our neighbors and care for the poor. Her primary goal for this fellowship is to educate her fellow evangelicals about climate action and foster a discussion on her campus and in her church of how climate action relates to our calling as Christians. She hopes to accomplish this by planning events on her campus and at her church, as well as starting a hiking club devoted to helping others see God in nature.
In her free time, Keely enjoys creative writing, hiking, kayaking, playing tennis, reading, exploring Minnesota with her friends, and caring for her various pets, especially her fish.