Thomas Dykstra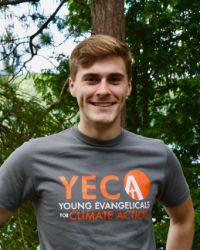 Thomas Dykstra
University of Northwestern- St. Paul
Thomas Dykstra is a sophomore at the University of Northwestern in St. Paul, Minnesota. He is pursuing a major in Environmental Science & Business and minors in Social Justice and Art. Growing up in rural Iowa, Thomas had easy access to the outdoors. Whether it was going on bike rides, exploring his neighborhood creek with friends, or camping with his family, Thomas had many opportunities to experience and appreciate God's creation.
From a young age, Thomas was taught about Christ's redemptive and unconditional love for all people. As he got older, Thomas' God-given passions for justice, people, and the environment grew. He began to understand the connectivity of global issues, especially climate change. Thomas saw that the climate crisis impacting local farmers in his home state was the same issue exacerbating poverty and food scarcity across the globe. He firmly believes that Christians are called to care for God's people across the globe and take action against the changing climate.
Thomas' God-given convictions dealing with the environment and global justice inspired him to implement sustainable principles into his daily life. He plans to use his Climate Leadership Fellowship to educate, encourage, and empower his school's community to care for God's creation, fight the climate crisis, and advance sustainable practices on campus and in surrounding communities. As the president of his campus' People + Planet Fellowship, Thomas hopes that he will increase the active engagement of students by hosting events, providing resources, collaborating with school faculty, and creating community.
Besides studying for classes, Thomas keeps himself busy with choir and theatre rehearsals. In his free time, Thomas enjoys listening to music, hanging out with friends, running, reading, and taking care of his houseplants.