Lindsay Mouw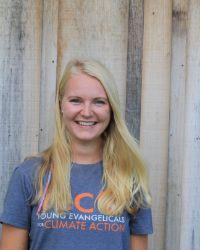 Lindsay Mouw
Lindsay has been involved with YECA for 3 years. Previously she has been a Project Leader, a Climate Leadership Fellow, and served on staff as the Project Coordinator. Lindsay is the spokesperson for Natural Soy Products, which is a start-up company that seeks to provide environmentally-friendly, non-toxic cleaning and industrial products as alternatives to petroleum based or harmful products. 
Lindsay received a B.A. in biology with minors in environmental science and political science in 2017 from Dordt College (IA). While a student at Dordt, Lindsay served as both a Climate Leadership Fellow and a Project Leader through YECA. Through these experiences, she founded a creation care club on campus and worked with students and administration to create a more sustainable culture on campus and in the larger community. Lindsay also serves as a Regional Organizer for the Climate Witness Project of the Christian Reformed Church's Office of Social Justice.
She has hope that faith communities will become the leader in the battle against climate change as we take seriously our call to serve and protect the Earth and to love our Creator and our neighbor.
-Contact Lindsay at lindsay.mouw@gmail.com
-Learn more on Lindsay's LinkedIn