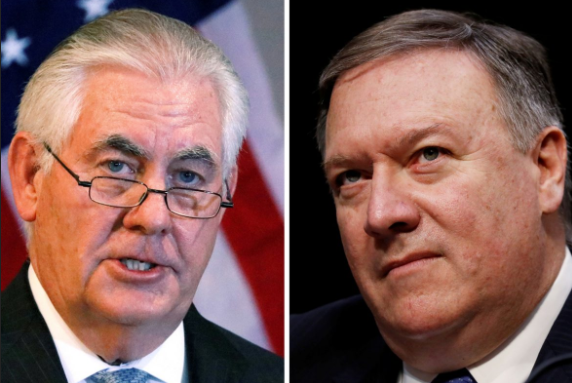 President Trump announced today that CIA Director, Mike Pompeo will replace Rex Tillerson as Secretary of State. In response, Young Evangelicals for Climate Action released the following statement:
"After just over one year on the job, Rex Tillerson's record on climate at the State Department was uniformly abysmal. Under Tillerson's watch, the State Department axed the position of U.S. Climate Envoy and it walked away from the Paris Agreement, making the U.S. the only country with its back turned on the global pact to address climate change. It is as much as one could expect from a department run by a man who spent his entire professional life advancing the interests of the largest fossil fuel corporation in the world.
With the announcement that Mike Pompeo will replace Tillerson, it appears that we are in for more of the same. As a Kansas Congressman in 2015, Pompeo described the Paris Agreement as a "costly burden" and a "damaging climate change proposal" against which Congress must do everything to fight. It's as much as one could expect from an elected official whose number one career campaign donor was the oil and gas industry.
Mike Pompeo has made a career out of advancing the interests of the fossil fuel industry. Mike Pompeo is also a Christian. As fellow followers of Jesus, we pray that Pompeo will recognize the damage that his allegiance to fossil fuels is doing to God's world, to our vulnerable neighbors around the globe, and to our very future on earth. We pray that he will recognize the tremendous power he now wields to move our country in the direction of compassion, stewardship, and economic opportunity.
We will pray for Mike Pompeo as we continue to march, lobby, and pressure him with everything we've got in defense of a stable climate and a healthy future for all."