Corina Newsome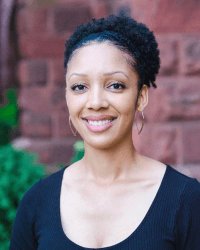 Corina Newsome
Senior Advisor
Born and raised in Philadelphia, Pennsylvania, Corina Newsome is a wildlife biologist dedicated to the integration of environmental justice and conservation science and practice. Corina earned her bachelor's degree in zoo and wildlife biology from Malone University and, after several years as an animal care professional, went on to earn her master's degree in biology from Georgia Southern University.
With a specific passion for avian conservation, Corina's research focuses on answering landscape ecology questions that help us better understand how we can help birds thrive in a changing world. Corina's fascination with birds extends beyond her research and into the communities where she lives and works, serving as beautiful vehicles through which she connects herself and others to the world around them.
In addition to her work as a wildlife scientist, Corina is committed to increasing the representation and visibility of Black science professionals for the next generation of STEM experts, and centering the leadership and perspectives of Black, Indigenous, and communities of color in wildlife conservation, environmental education, and exploration of the natural world.