Rev. Kyle Meyaard-Schaap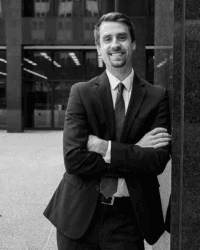 Rev. Kyle Meyaard-Schaap
Senior Advisor
Rev. Kyle Meyaard-Schaap holds an undergraduate degree in religious studies from Calvin University (B.A. '12), a Master of Divinity degree from Western Theological Seminary (M.Div. '16), and is ordained in the Christian Reformed Church in North America (CRCNA). For the last ten years, he has educated and mobilized Christians around the world to address the climate crisis as an act of discipleship and neighbor-love.

Kyle has been named to Midwest Energy Group's 40 Under 40, the American Conservation Coalition's 30 Under 30, and the Grist 50 Fixers cohorts for his work on climate change education and advocacy. In 2020, he was named a Yale Public Voices on the Climate Crisis Fellow. His work has been featured in national and international news outlets such as PBS, NPR, CNN, NBC News, New York Times, Reuters, and U.S. News and World Report. His first book, Following Jesus in a Warming World: A Christian Call to Climate Action, is set to be published by InterVarsity Press on February 21, 2023.
Kyle is married to Allison and lives in Grand Rapids, Michigan with their two sons.

-Check Out Kyle's Website and Book
-Follow Kyle on Twitter